Le Fil Lumière
The FIL LUMIERE polo-shirt has been our signature product ever since its invention in France in 1964.
The FIL LUMIERE is a unique artificial fabric originated from Polyamide thanks to an exclusive MONTAGUT manufacturing process. Especially designed and tested for warm and humid climates, it is comparable to silk in terms of softness, suppleness, elasticity and extreme comfort but with enhanced durability, convenience and maintenance.
Every season the Fil lumière knitwear come in diverse fashionable styles of vibrant colors and creative patterns, upholding the brand reputation of quality, elegance and taste.
All our styles are created and developed in France, according to a high standard of know-how, making each product so unique.

In 1963 the Montagut Fil Lumière is born. Named after its shiny texture that is comparable to silk, this exclusive synthetic yarn is the result of a sophisticated manufacturing process engineered by Leo Gros, the grand-son-in-law of the Montagut founder.
The Fil Lumiere polo-shirts are distinguished by their unique features of being soft, shining, comfortable with improved wrinkle resistance, durability and high color retention. The technological breakthrough radically accelerates the development of the brand and the Fil Lumiere knitwear have remained ever since, the most popular Montagut products, being especially acclaimed across Asia.
Fil Lumière
Heritage quality
Unique Technology

Evaporating Perspiration

Cool Sensation

Quick Drying

Permanent Shape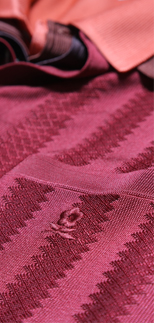 Unique Technology
Exclusively created and developed in France by MONTAGUT, and especially invented for hot and humid climates, FIL LUMIERE is a shiny, elastic and resistant yarn which significantly enhances both functional and aesthetic qualities of garments.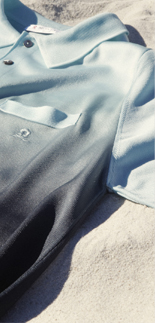 Quick drying
Knitwear made of FIL LUMIERE absorb two times less water during washing and evaporate moisture three times faster than those made of cotton.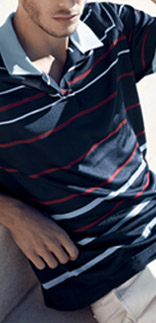 Cool Sensation
In warm weather, evaporation of perspiration leads to heat dissipation and a drop of temperature on the internal surface of the knitwear, providing a cool sensation on the skin.